In 1974 Owasco Meat Company, Inc. was formed by Warren, Dennis and Larry Brannon.  Larry was the inspiration for the business as he graduated from Cornell in 1970 and then headed west to Colorodo to live with his Aunt.  In Colorado Larry went to work in the meat industry and found his passion and at the same time the plant in Moravia came up for sale and Warren convinced Larry to move home and grow the meat plant.  Owasco Meat would not be what it is today without the oversight in it's early years by Warren with his sons by his side.  For those that knew Warren he was a community man, he worked for Cornell Cooperative Extension, ran his own farm and for many years served on the Dryden School Board.  It was working on the school board and through extension that Warren became friends with Ron Space Sr who was a local dairy farmer. 
Eventually, Ron Space II took over the dairy farm for Ron Space Sr and for many years Warren was the smiling face of Owasco Meat hauling all of the animals to the meat plant. Fast forward to today and Jason Clore and his wife Callan Space who is Ron Space II's daughter have joined Larry at Owasco Meat to ensure that it stays alive and well in the community. Callan and Jason want to preserve the custom processing business that Larry has cultivated for the last 48 years and continue to expand the retail and wholesale parts of the business. The Covid-19 pandemic showed the US and the World the importance of being local and we look forward to many more years servicing this community. Below is a little more about each owner.
Meet the Team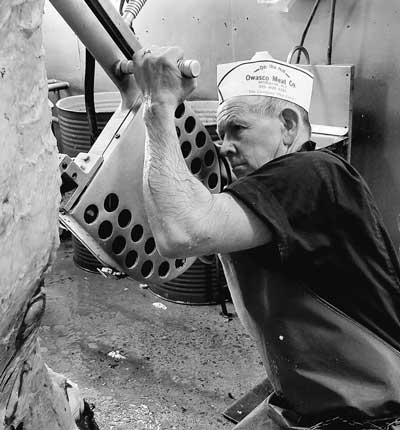 Larry Brannon
Larry is a staple in the Moravia community and has made Owasco Meat what it is today. Larry is a master butcher and meat cutter that has survived in the industry for almost 50 years and has seen many economic ups and downs and has survived them all. Throughout Larry's time at the plant he has flexed the business to the demands of the economy to keep it successful, at one point he was a large wholesaler of pork when the pork industry was large in New York State. Larry's daughter Melanie Wilson is the plant's bookkeeper and helps keep the whole team in order. Larry married the love of his life Bobbi Brannon in 2001 and raised their daughter's: Jamie, Marissa and Brittnie who have all worked at the plant throughout the years. Bobbi passed away in 2014 but left her mark on Owasco with all of her organizational skills. Larry is tutoring Callan and Jason and is looking forward to mentoring them and also taking long vacations that he has never been able to do before.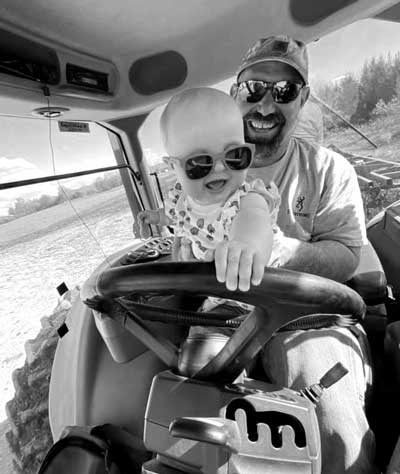 Jason Clore
Jason is an Electrical Engineer and a Master Electrician (Licensed in DC/MD and VA prior to moving to NY in 2017). Jason is a graduate of Virginia Tech, don't worry we don't hold that against him, and had a great career working in Data Centers for Black Entertainment Television (BET), Amazon Web Services (AWS), and Oracle. After 20 years working in Data Centers Jason wanted a change of pace and to get back to something he was passionate about in high school: farming and working the land. Jason met Callan in 2013 and they became great friends and they started dating sometime in late 2016 and married in the summer of 2018. Jason has 2 children with his late wife, Brett and Addie, that moved with him to upstate NY and since then he was welcome Nellie and Eloise with Callan to round out the "Clore Clan." He has been a butcher's apprentice and has learned the butchering trade from Larry and Bromo Salsman, two of the best men in the industry. Jason is also a partner on Millbrook Farm in Freeville, NY with Ron and Ivy Space.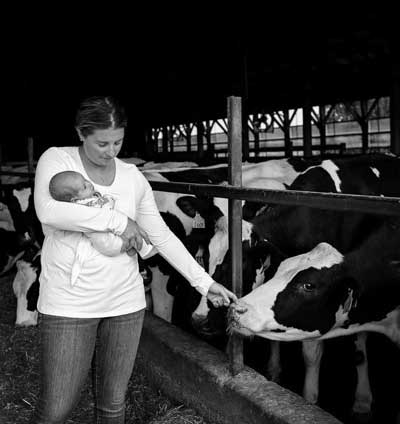 Callan Space
Callan is a Senior Finance Manager for Amazon.com and grew up on her family's dairy farm, Millbrook Farm, and is a graduate of Cornell University. Callan remembers Warren picking up cattle when she was a little girl and her dad always getting caught up in conversation with him every time he stopped at the farm. Callan has always been passionate about farming and agriculture and see's Owasco Meat as something very special in the community. The protein shortages over the last couple of years and having a local supply chain of fresh proteins is essential in our area. Callan is very active in the community and serves on multiple boards: The Groton Ag Advisory Board, Tompkins County Soil and Water District Board and the Tompkins County Dairy Committee to name a few. Callan is a Lead NY Class 19 graduate and is continuing to expand Owasco Meats reach.